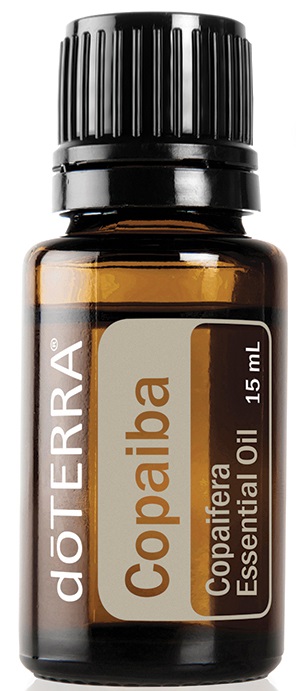 Copaiba Oil
Similar to Black Pepper, can help soothe anxious feelings and, when taken internally, supports a healthy immune and cardiovascular system.*
Uses:
Add one to two drops to water, juice, or tea to support the health of the cardiovascular, immune, digestive, nervous, and respiratory system.*
Provides antioxidant support when ingested.*
Take internally to help soothe and calm the nervous system.*
Apply topically combined with a carrier oil or a facial moisturizer to help keep skin clean and clear, and to help reduce the appearance of blemishes.
Swish with two drops of Copaiba Oil and one drop of Peppermint Oil to freshen the breath and promote oral cleanliness.
Apply two to three drops and cover with Deep Blue Rub to soothe sore, tired muscles after strenuous activity.
Mix equal amounts of Copaiba Oil and Fractionated Coconut Oil and apply to restore stressed skin.
Add one drop of Copaiba to your daily HD Clear® Facial Lotion application to improve the appearance of the skin.
Place one to two drops of Copaiba under the tongue to encourage a general sense of well-being during periods of stress or nervousness.
Diffuse three drops each of Copaiba and Breathe to support healthy respiratory function.
Diffuse two drops each of Copaiba, Vetiver Lavender, and Wild Orange to promote restful sleep at night.
Diffuse two drops of Copaiba with four drops of Serenity to promote a calm and peaceful environment.
I also place a few drops onto my ears for immediate calming effects.
It smells great combined with Lavender, Frankincense, or Siberian fir.
What diffuser blend did you create with Copaiba?
It isn't just about purity of the oil, which it is 100% pure, but it's the quality due to the chemical profile and where they source their oils from. doTERRA has exclusive rights to most of their growers.

When you order your enrollment kit through me, you'll receive a FREE consultation, and Acupressure Protocol for Boosting the Immune System!

Order your doTERRA Essential Oil Enrollment Kit Now!